We live in a world today where dogs are considered family to many owners. There are birthday parties for dogs, social influencers that are dogs, restaurants for dogs. Even in the Lombard area, you can take your dog to Yorktown Shopping Center or if you are ever in the Glenview area, check out Dawg Park, a hot dog joint where you can bring your fur friends! It seems as if dogs have taken over and that is not such a bad thing. Dogs are extremely intelligent animals, and they have been helping humans with a wide variety of tasks since the beginning of time. It has been proven that dogs provide many benefits to their owners, such as an increase in fitness, happiness, decrease in stress, and so many others. When it comes to service dogs, therapy dogs, and Emotional Support Animals (ESAs), there are different types of benefits they bring to their owners, handlers, and to those in need. You're asking yourself, "What's the difference?" -this blog will help break each category down.
Service Dogs, What do they do?
The Department of Justice clearly states in the Americans with Disabilities Act (ADA), "A service animal is a dog that is individually trained to do work or perform tasks for a person with a disability." According to the ADA, service dogs are primarily a working animal and are not considered pets. Since these animals are considered working, the ADA has strict sets of rules that require, "State and local government agencies, businesses, and non-profit organizations (covered entities) that provide goods or services to the public to make "reasonable modifications" in their policies, practices, or procedures when necessary to accommodate people with disabilities. The service animal rules fall under this general principle. Accordingly, entities that have a "no pets" policy generally must modify the policy to allow service animals into their facilities."
People with disabilities may often use a service dog in their everyday life. These dogs are highly trained, hundreds if not thousands of hours are spent on training for just one dog. These dogs are trained to help their owners perform a wide variety of tasks that can include, being a guide dog for someone who is blind, being an alert dog for someone who has hearing loss, or even detecting when someone might start seizing. The ADA does not require a specific breed of dog to be a service dog but the dog has to be able to perform the tasks easily for its owner. When trying to find the right service dog, owners, medical professionals, and training organizations are looking for many key characteristics that include, alertness, calmness, willingness to please, ability to learn and retain information, the capability of being socialized, and to be reliable. As indicated earlier, service dogs are allowed to go anywhere their owners go, which is typically, any public place. If it is not made clear what service the dog performs, staff in these covered entities are only allowed to ask two questions:
Is the dog a service dog required due to a disability?
What work and or task has the dog been trained to perform?
These questions are in place to protect the owner's privacy but the lack of questioning and identification of service dogs and their owners are one of the main reasons why it is so easy for people to bring their pets, not just dogs, into most public areas. Many business owners and staff members are very hesitant to ask the questions about the pet because if they ask too many they may break laws or offend someone.
Emotional Support Dogs, How are they different from Service Dogs?
ESAs are considered pets, not a working (service) animal, under the ADA. ESAs are often confused with a service dog because they "help" ease anxiety, depression and even certain phobias. ESAs only provide support through companionship, they do not perform a specific job or task. ESAs are not protected under the ADA, therefore they are not allowed in public places like a service dog is. However, many individuals who use ESAs may be provided accommodations in areas of housing and air travel. It is important to check with your local agencies to see if you qualify for these services. According to an article written for The Guardian:
"While no governing body keeps track of the figure, a study from the University of California at Davis determined the number of ESAs registered by animal control facilities in the state [of California] increased 1,000% between 2002 and 2012. By 2015, the National Service Animal Registry, one of several sites that sell ESA certificates, had registered more than 65,000 assistance animals. In the four years since, that number increased 200%."
ESAs are important to their owners, there is no question about that. What has been the ongoing issue with service dogs versus ESAs is that there are many scams out there that will sell owners "official" ESA tags, dog vests, and certificates for a small fee. In order to be a legal emotional support animal, a licensed medical professional must deem the presence of the animal necessary.
What is a Therapy Dog?
A therapy dog is someone's pet who will travel as a volunteer to certain settings such as hospitals, nursing homes, schools, or even tragic events. These dogs are trained to provide comfort, support, affection, and to interact with all people, not just the owners and handlers. There is required certification to become a therapy dog and the American Kennel Club breaks what all goes into getting a dog registered as a therapy dog. Living in the Chicagoland area, we have quite a few local organizations that help provide companionship and therapy includes: Canine Therapy Corps, Fox Valley Therapy Dogs, and Lutheran Church Charities K-9 Comfort Dogs. LCC K-9 Comfort Dogs include Lombard's very own Eve the Comfort Dog!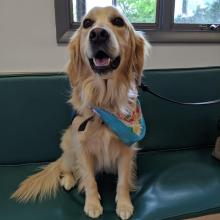 therapy-dog-lombard.jpg
Important things to keep in mind
Indiana Canine Assistant Network (ICAN) has created a chart to help know the difference between a service dog, ESA, and therapy dogs.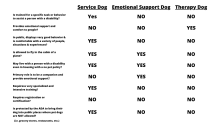 Indiana-Canine-Assistant-Network-chart.jpeg
When it comes interacting with the a service dog there is a certain etiquette that you should follow:
A service dog has specific tasks to do for one person, therefore should not be distracted

Do not touch or pet the service dog

Do not talk to the service dog

Never feed the service dog

Be mindful that each owner many have different disabilities, please be respectful of their privacy
Lastly, if you bring your pet into public, please be mindful of how they act around other animals, people, and settings. Make sure that if you bring your pet into public, only visit pet-friendly stores, here are a few in the Lombard area. If you do have to go and run errands to stores with a no pet policy and have to leave your pet home make sure to keep them entertained and happy with their favorite toy, a puzzle toy that reveals treats, or put on a pet TV channel or even a quick search on YouTube can provide videos for their enjoyment. If you have a Roku streaming device, they have a wide variety of channels that you're able to download.
If you have questions about service animals, therapy dogs, or ESAs, please contact us and our staff will help point you in the right direction.