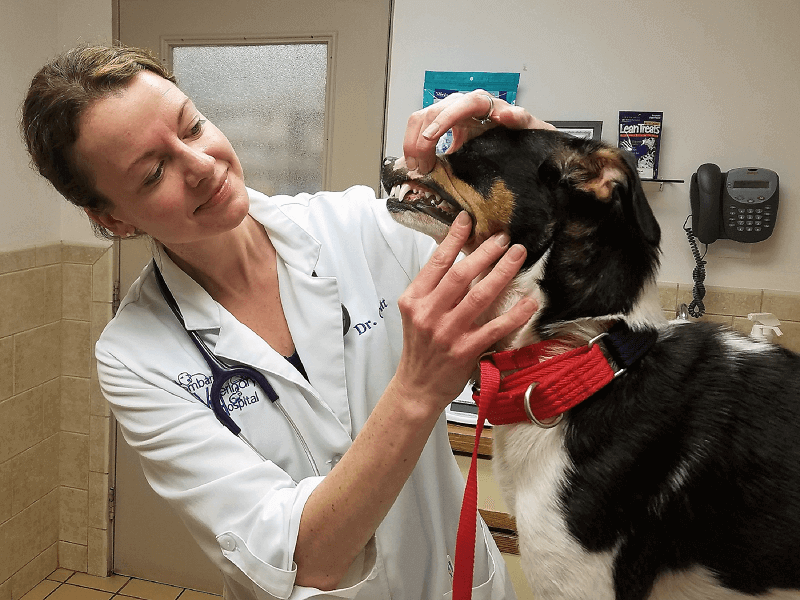 Just like your own need for dental care, pets also require regular oral check-ups to maintain their overall physical health. During each physical examination at Lombard Veterinary Hospital, we will take a look at your pet's mouth to check for tooth cleanliness, gum health, and other oral concerns.
Prevention is Key!
We strongly believe that prevention is key when it comes to oral health. That is the reason we are so proactive about dental care for each of our patients, incorporating dental checks into every visit and educating pet owners about proper at-home dental care. At Lombard Veterinary Hospital, we also carry a variety of CET products including toothpastes and dental chews. We encourage all pet owners to engage in some form of at-home dental care on a regular basis. If you have questions about at-home care or need help brushing your pet's teeth, we'd be happy to help you! We offer complimentary dental check ups because we believe wellness begins with a healthy mouth. Call today to schedule your pet's complimentary dental exam where our dedicated team of Veterinarians and Technicians will evaluate your pet's mouth and make a recommendation about home care, including brushing teeth and discuss when your pet may be due for a professional cleaning.
Professional Dental Cleaning
Sometimes even regular at-home dental care can't keep up with our pet's dental needs. We all need to go to the dentist periodically! Our professional dental cleanings are very similar to those your dentist does on your teeth. For safety reasons, these professional cleanings are performed while your pet is under anesthesia. This allows us to do a deeper cleaning without causing stress and discomfort to your pet. Our professional dental cleanings include complete scaling and polishing, as well as extractions, if needed for patients with dental disease. Dental x-rays can also be taken if recommended by the veterinarian. Like all of our surgical procedures, a dental cleaning is performed with complete anesthesia monitoring and intubation, and is supplemented by our pain management protocol. We may also administer laser therapy when tooth extractions have been performed if the doctor thinks it will be helpful in the healing process.