Do you want to share your own adoption success story? We would love to hear it! Please send your story and your pet's picture to [email protected] and we will add it to this page.
Here are some of our favorite success stories:
Indy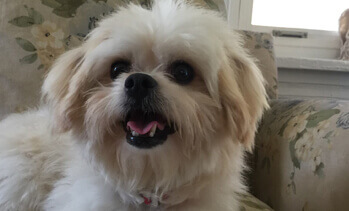 Indy had a pretty rough start and his name reflects how he was found. A client of ours was driving down the Indiana highway when she spotted a man running after a little dog on the shoulder of the road. Naturally she stopped to help. Fortunately, they were able to catch the dog without any injuries which is a miracle in itself. When Indy arrived at Lombard Veterinary Hospital, he was terrified. He stayed in the corner of his cage and would only leave when he was taken outside. After a couple of days, Indy began to warm up and show his true personality. He loved getting attention, petted, and treats. Indy even followed us around the hospital and sometimes even got to hang out in our break room to help him become more social. Margaret, the sweet woman who found and brought Indy to us came in regularly to visit and see how he was doing. One day Margaret's mother came along to meet Indy and the two of them fell in love. Today Indy sure has the life! He goes for frequent walks with his new pal, Quigley, and is spoiled rotten. Indy got to meet Santa for the first time and didn't ask for anything because he's gotten all he could ever want in life.
Archer
Hi! My name is Archer and I wanted to share my story with you. Believe it or not, I'm a cat burglar and was stopped in my tracks when a Lombard Veterinary Hospital client found me in a neighbor's house. The client brought me to the hospital where I got a warm place to sleep and plenty of food. Pretty soon, I was hanging out in the lobby, keeping an eye on all of the receptionists and clients. Then one day a nice lady came in and we both fell in love. But I had to meet the whole family, including the dog, before she could take me home. As you can see, we became best friends right away. My burglary days are behind me now and instead I got to spend my first Christmas with a family!
Trixie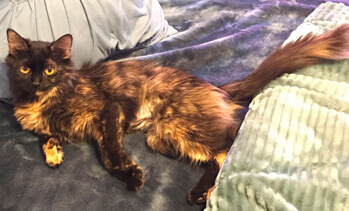 A client found Trixie on Halloween when she was out walking her dog. Trixie actually followed them home. Because the client didn't want to leave her outside, she called and then brought her in to us. Our doctors examined Trixie and determined she was a healthy, sweet girl. Trixie must have been on to something when she followed them home because the client decided to give her a forever home. Now Trixie has all the love and affection she could ever ask for!
Remington George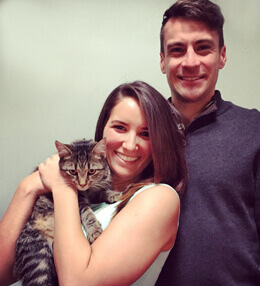 Thank you Lombard Veterinary Hospital for allowing us to adopt Remington George. Remy has brought so much joy to our lives. He is an extremely loving, energetic, playful, and healthy kitty. He is the purrrrfect furry friend. The adoption process was easy and the staff was very friendly and knowledgeable. They answered all of our questions and were happy to see Remy going to such a great home. We love our Remy! Thank you again. Love, Katie, Ryan and Remy!
Dasher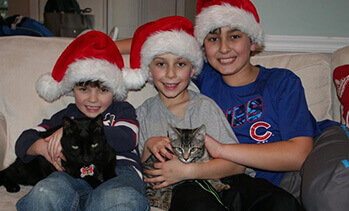 Meet Dasher - the newest member of the Cooper family. On Christmas morning our doorbell rang - and standing there were Barb and Rick Kelly. They were holding a large present with a giant shiny red bow. We invited them inside, and they explained they found this present on their back porch. On the top of the box the gift tag said, "To: TJ, Charlie and Elliott Cooper" and it listed our address. It was from, "Santa, at the North Pole."
Barb realized Santa must have delivered the present to the wrong house! So she and Rick immediately bundled up and drove to the address listed on the gift. When they handed the box over to the boys, they tossed off the lid - and out popped the sweetest, cutest, most lovable kitten! Nobody could believe their eyes. Charlie squealed, "How did Santa know we wanted a kitten?" TJ muttered, "Oh my gosh...did Santa talk to mom and dad?" and Elliott shouted, "Let's name him Scar!"
Needless to say, Scar was voted down. The name Dasher was chosen in honor of the reindeer who pulled him from the north pole...all the way to Lombard.
Willie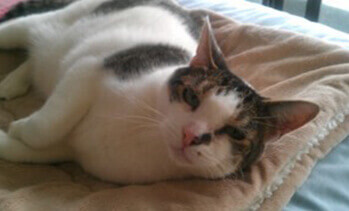 Willie was given up to DuPage County Animal Care and Control because his owner could no longer take care of him. He is very loving and calm and enjoys the company of other animals. For six months he awaited a special person to take him home. Due to him being 12 years old, he was passed over by people looking for younger cats. Finally, his savior Beth Clynch, made him part of her family. He is now spoiled and enjoys playing with the other cats she has rescued.
Patches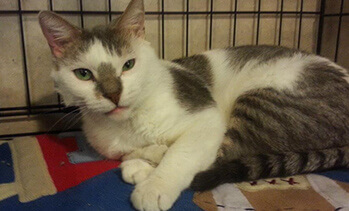 This is Patches, a five year old male, who was found outside last year. He is extremely affectionate and playful and has one eye smaller than the other! He came to Lombard Veterinary Hospital, through DuPage County Animal Care and Control, last summer looking for a forever home. Patches stayed with us for a few months, being skipped over due to his one small eye. His luck changed when Mr. and Mrs. Waliczek fell in love with his personality and loved that his eye made him unique! He now lives like a king in his loving forever home.
Ginger and Lizzie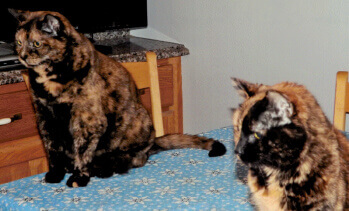 This is a personal story told by Ginger and Lizzie's new family. In March 2012, we met two older cats who were 9 and 12 years old. Yes, they were older than we had planned on adopting. We left Lombard Veterinary Hospital to think about the adoption. Before we had driven one mile we decided they were somebody's best friends and they didn't deserve to spend the rest of their lives in cages after being given up for adoption. Whether they had six months or six years to live, Ginger and Lizzie should be happy.
What we got in exchange were two cats who love us. They come when you call them, watch TV or sit on the sofa (with their stepsister Abby, the English Cocker) and love to be petted. Ginger and Lizzie have given us much more than we could have hoped. Today, they are 10 and 13 years old and are busy training us to give them wet food and treats. - Tom and Carol Podraza Elmhurst, Illinois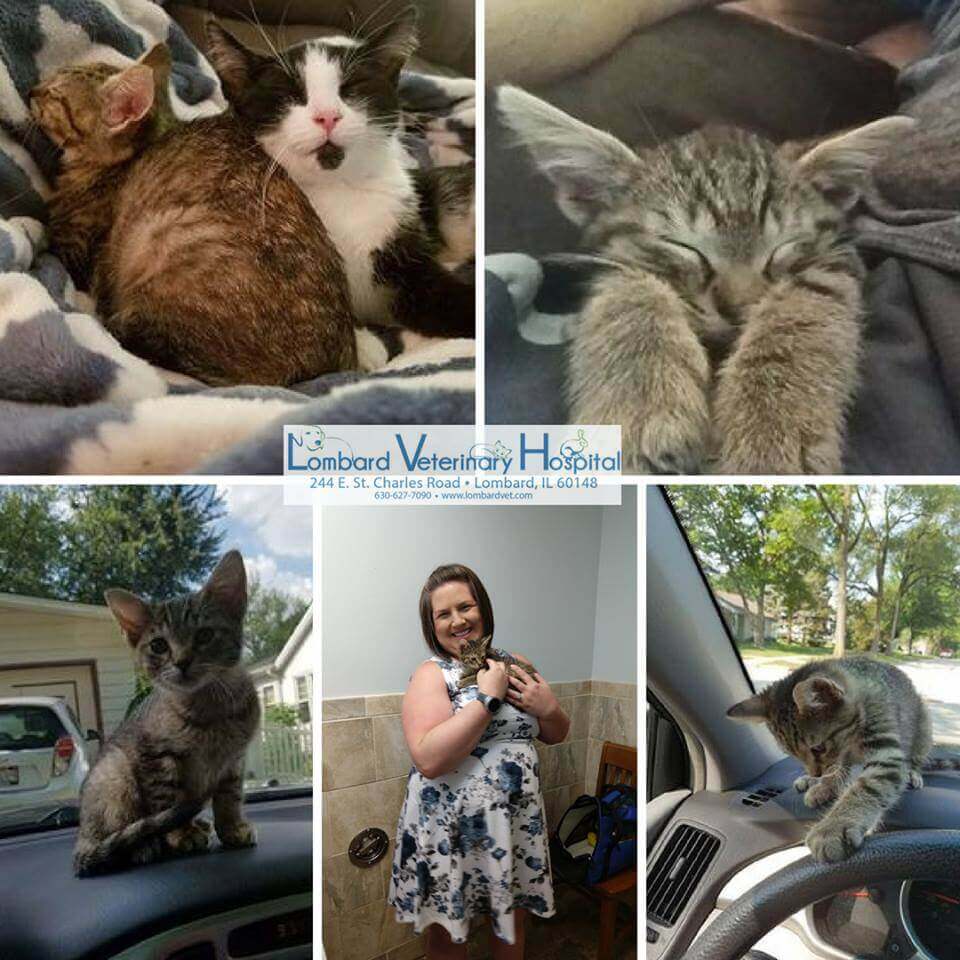 Natasha
Adoption update! Sara, adopted Natasha (previously Annabelle) and shared some pictures with her at home! We are happy to see Sara has taught Natasha how to drive (just kidding)! Boris and Archie have welcomed Natasha with open paws and now they are all best furriends! She was adopted in July and is so happy to be in her forever home!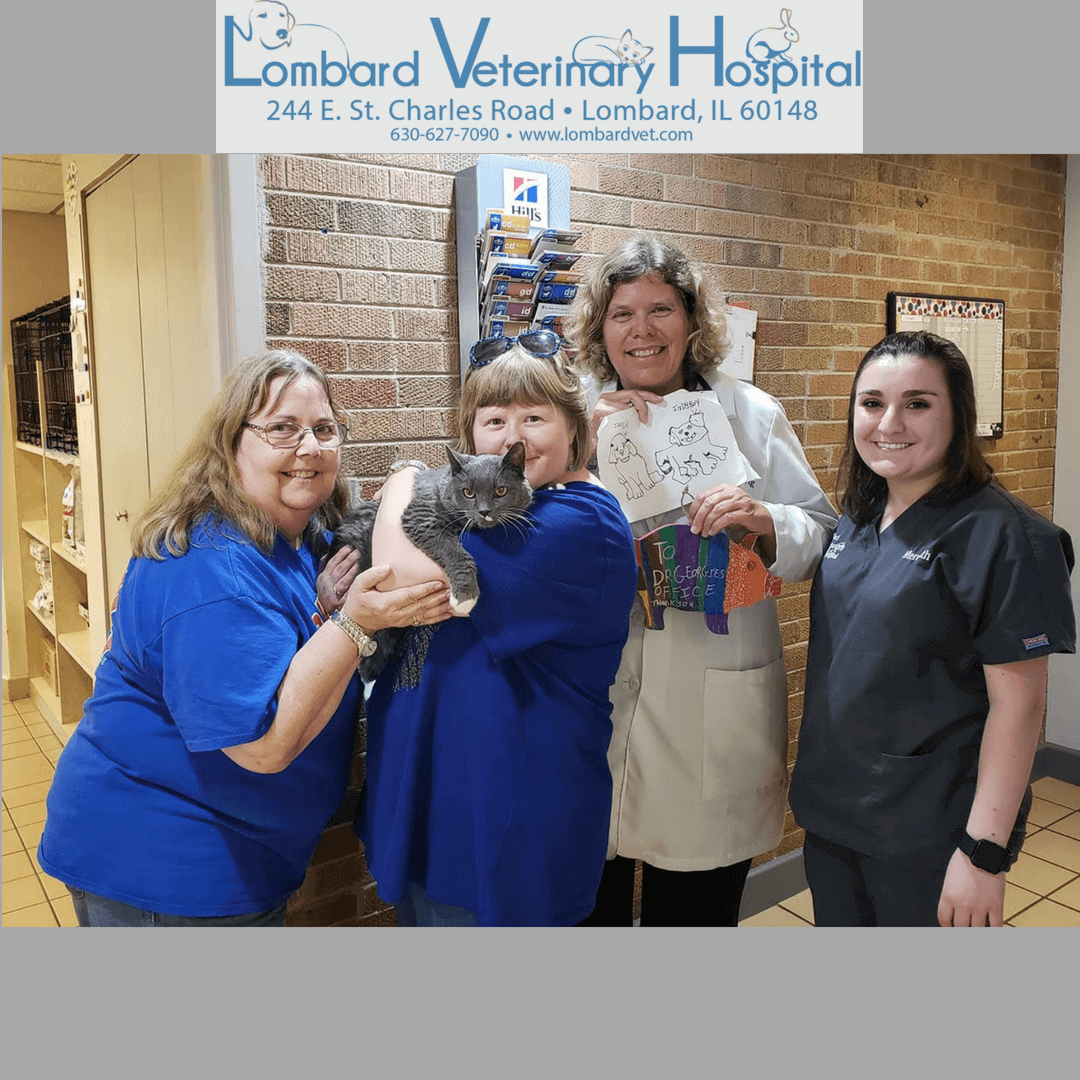 Gracie
Gracie was adopted 3 years ago by Sharon. Dr. Ludwig was able to save Gracie from being euthanized by a shelter and took her into our adoption program. Sharon took Gracie home just a few days after her life was saved. We love helping out our clients find new pets. As well as finding our pets new forever homes!