On August 10th, Lombard Veterinary Hospital was hit by a tornado. For the past few months we have been working out of the east half of the hospital, today we are excited to announce that we have built a full-service temporary hospital located at 1300 South Main Street in Lombard, in the same shopping center as Hobby Lobby. We will start seeing pets at this location on Saturday, November 7th. We will provide our clients and patients the same great care at this location for the next 18-24 months while a brand new hospital is being built at our current location (244 E. St. Charles Rd). This page will always be up to date with the most current information we have for you, our clients. If you have any questions, please call the hospital and we will be more than happy to answer them for you!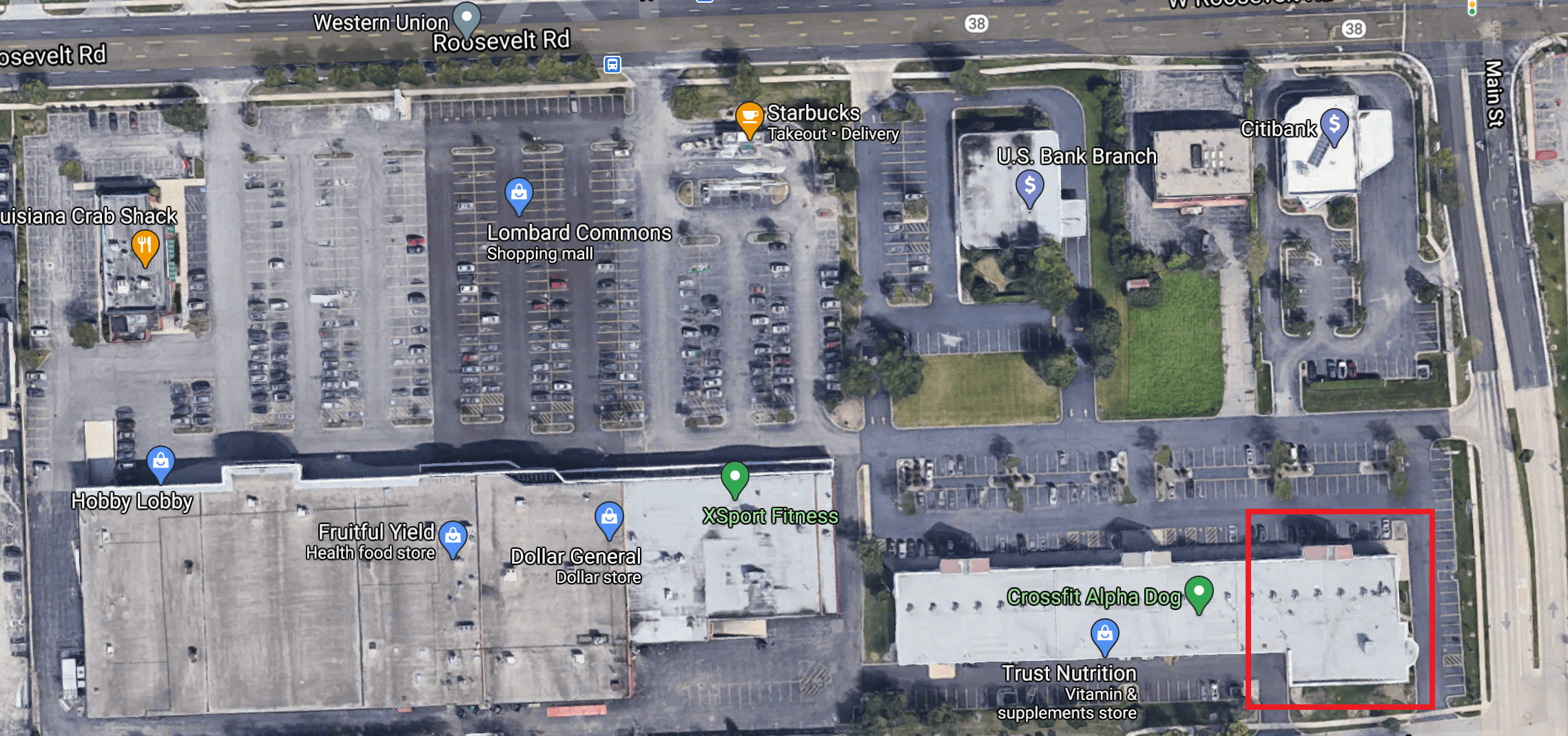 Update from Dr. Ludwig 10/31/20
On Aug 10, our facility was hit by a tornado, causing damage to the west side of our building. Fortunately, our hospital side did not sustain much damage, and we were able to re-open after just 4 days. We count our blessings everyday that all humans and pets came through the storm unharmed, due to the quick actions of our team. We have evaluated all of our options, and we determined that in order to best serve our clients and patients, we need to move our practice….temporarily…to another location. This will allow us to build a brand new hospital with expanded services, here in downtown Lombard. This should take around 18-24 months. On Saturday, November 7, Lombard Veterinary Hospital will begin operations at 1300 S. Main St. in Lombard, just a few miles south of our current site. We remodeled and updated a building in the Omni Plaza and created a brand new state of the art, full-service veterinary hospital in this space. It is located just south of Roosevelt Rd on Main St. We are excited to move into our new home where we will provide our clients and patients the same great care, just at a new location for the next 18-24 months. This new facility is the same size as our current building, and we will continue to be open everyday from 7 AM - 8 PM. We are able to offer full-service care for our clients and patients, including routine check-ups and same day urgent care visits, lab, X-ray and ultrasound services, surgery, hospitalization, and dentistry. We will continue to offer grooming services, and we are happy to announce that we will once again be able to provide lodging for our patients at 1300 S. Main St.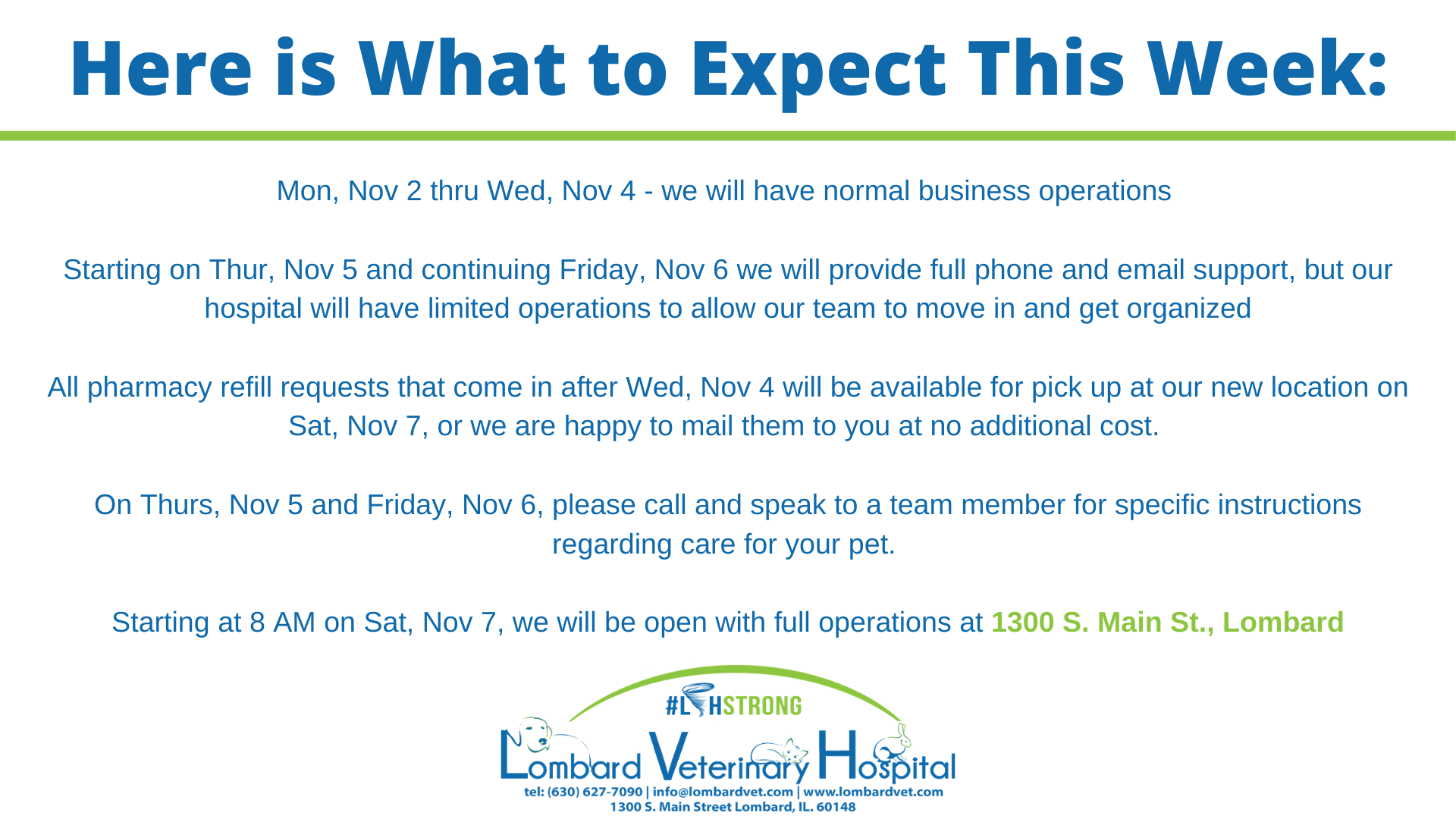 Thanks to our clients and our community for your support in 2020. At a time where many large veterinary practices are now corporately owned, we are especially proud to continue to be a family owned and operated veterinary hospital. We are blessed to have the support of so many loyal clients. I want to acknowledge the Village of Lombard officials and staff who have worked tirelessly to support us from the moment the tornado touched down and through our relocation journey. I want to offer a special shout out to our LVH team, who are the very best people I know. Our team has worked every day through the pandemic as essential workers. As if this wasn't enough stress, they worked to restore our services after the tornado hit the building and have been providing care working out of 40% of our usual space. If I have to go through a pandemic and a tornado again, I want to work with all of you. You are all SUPERHEROS! In the coming months, you will see a lot about our new theme #LVHstrong, which will serve to recognize the unique challenges our 61 year old business has endured in 2020. This is the year that we proved that COVID and a tornado can't take us down. Thanks for reading this message, and see you soon at 1300 S. Main St.
Want to see behind the scenes photos during construction? Click here to view them!
We are proud to be family owned and operated since 1959. Today the three generations of the Arndt-Ludwig family got together to help "tease" our new location. Please enjoy the video below #LVHSTRONG
Below is the official temporary relocation announcement from Dr. Ludwig.
Below is our hospital tour, check it out!