LVH Cares Initiative:
The team at Lombard Veterinary Hospital is committed to enriching our community. We care about pets, but we also care about you! We are involved in a number of community programs that we'd love to tell you about. Some of that information is below:
Lilac Festival Mutt Strut
Each year, Lombard Veterinary Hospital sponsors the Lilac Festival Mutt Strut, a unique event that allows for some great pet-owner bonding! This 5K Walk/Run features a Puppy Path, and dogs are welcome to participate in both events. The date for the 2017 Mutt Strut is May 13.
Annual Pet Blessing
Every September Lombard Veterinary Hospital hosts a pet blessing and service of remembrance to celebrate the lives of our beloved animal companions.
The Pet Blessing began in 2010 when one of our LVH clients, Rev. Emily Mellott of Calvary Episcopal Church, received a sympathy card from our team at the passing of her 14-year-old cat. Going through the experience gave her a deeper appreciation for the difficulty people have in grieving the death of their beloved animal companions and, as a pastor, she wanted to find a way to help other pet lovers deal with this loss. Rev. Emily discussed her thoughts with Dr. Georgianne Ludwig and they decided to work together on a pet blessing service. Before long, the pet blessing became an annual, ecumenical effort sponsored by First Church of Lombard, UCC and First Methodist Church of Lombard, and Calvary Episcopal Church, as well as Lombard Veterinary Hospital. This event welcomes people of all faiths, as well as people with no religious affiliations. It is truly designed to celebrate the human-animal bond that we see between our clients and their pets on a daily basis. What an uplifting event for loving pet owners! See more pictures by clicking here
Giving With A Thankful Heart:
Lombard Veterinary Hospital joined up with the DuPage Senior Citizens Council to help local senior citizens with feeding their pets. We accepted donations from our clients during the entire month of November! The results were fantastic as we were able to gather close to 500lbs of Dog and Cat food for our senior citizens. With the help of the DuPage Senior Citizens Council that food was distributed to those in need!
Girls and Boys Scouts:
Lombard Veterinary Hospital has welcomed in the local troops to learn more about the Veterinary Industry! We teach them about our processes as well as tour the children around the hospital. It has always been a very rewarding of working in the community! Our favorite part of the tour is when Doctor Ernat is able to bring out his famous balloon animals for the kids! Check out this priceless picture.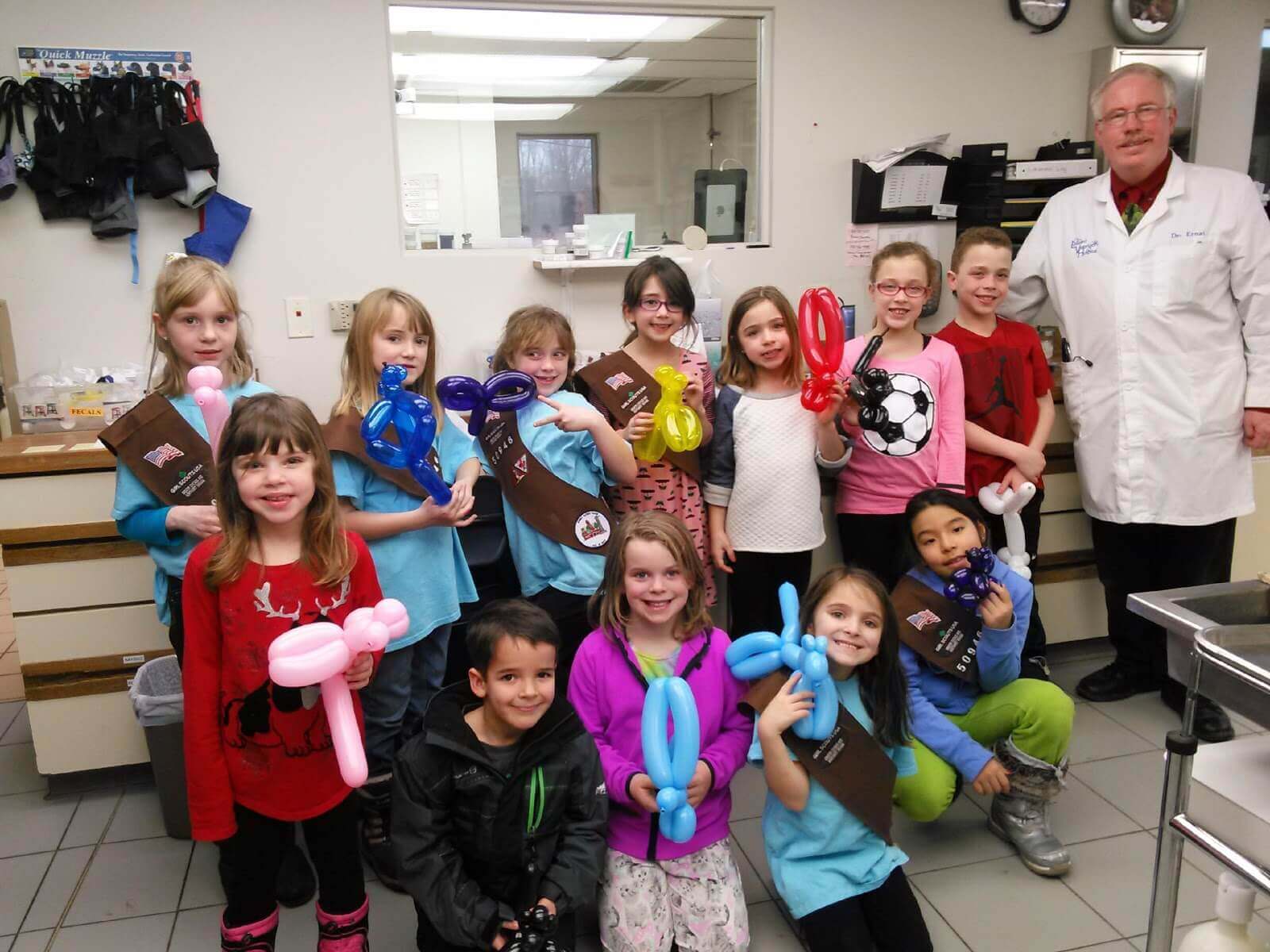 Community Helpers Presentation at Manor Hill Elementary School:
Lombard Veterinary Hospital was invited to talk to a class at Manor Hill about Veterinarians and what they do. One of our Certified Veterinary Technicians, Cassie, was able to join Greg in the presentation. Kid's were showed how to bandage Duke, our doll golden retriever. They even got to practice their skills by bandaging up his leg! It was a great experience to give back to our community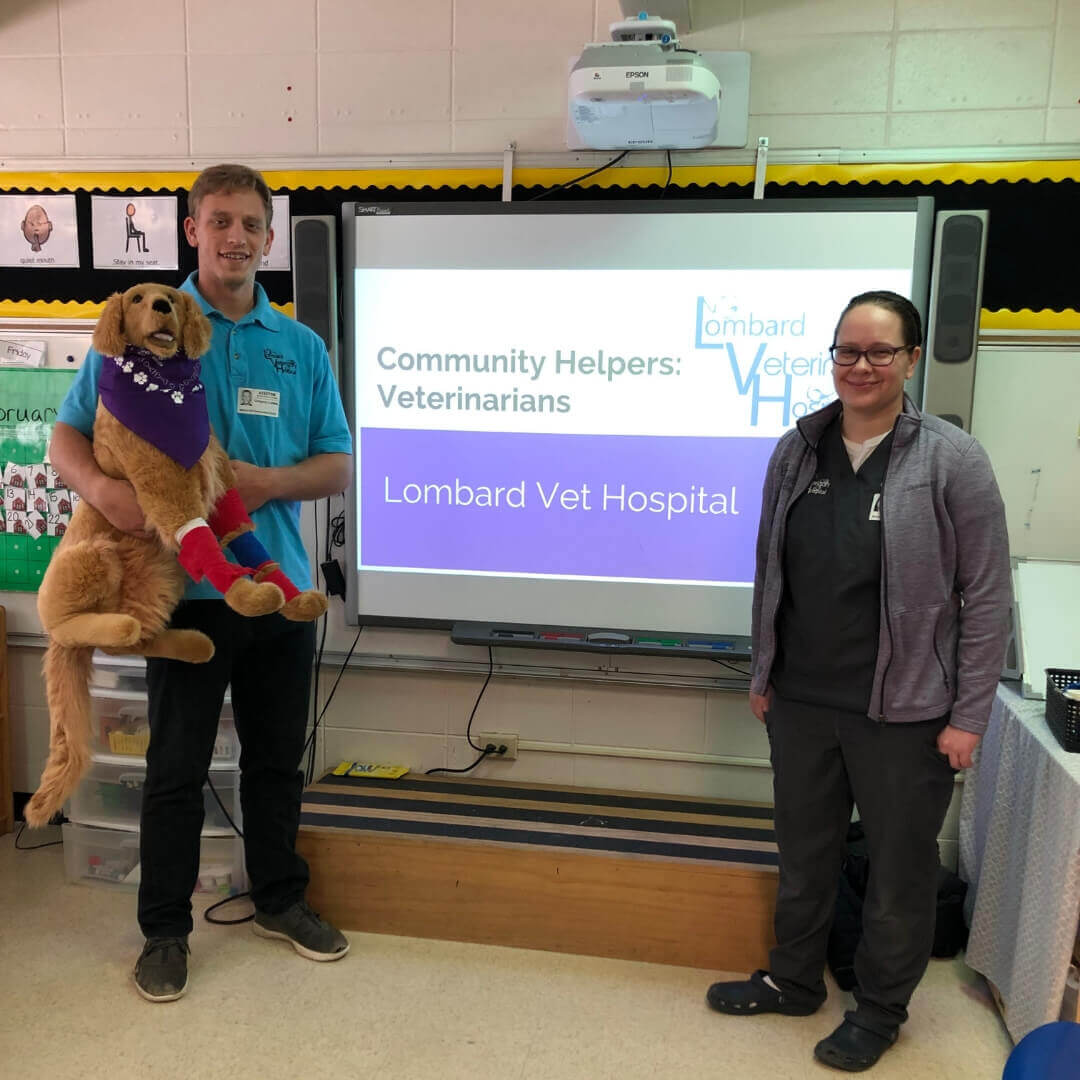 by sharing our everyday lives with the community youth! Thank you for the opportunity, we hope to do participate again soon!
Pet Adoption Program
Our staff has helped find homes for hundreds of cats. We have some wonderful success stories! If you'd like to see some of our stories check out the Adoption Success blog.