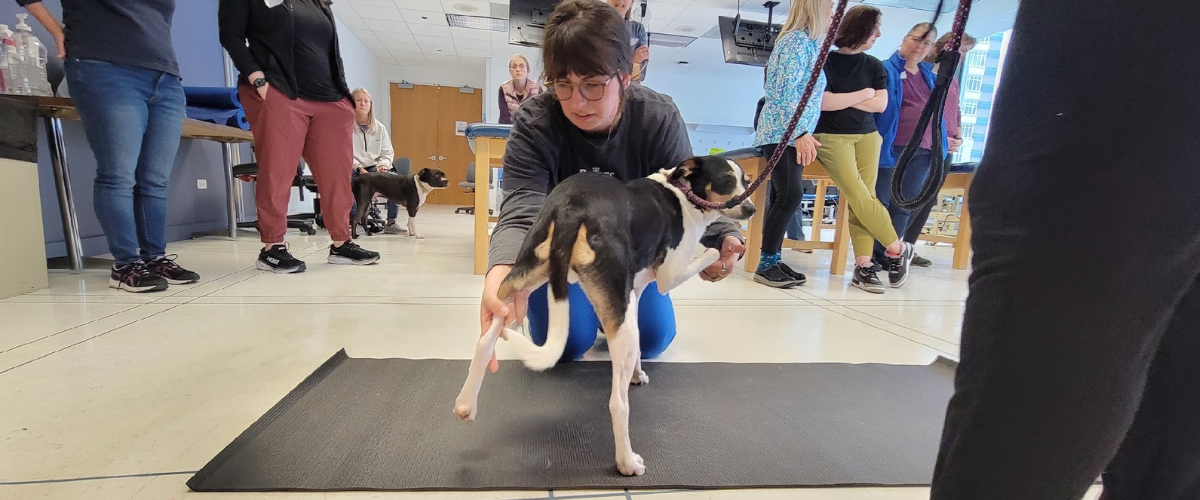 On April 28th, Sarah and her dog Mike, plus Abbie and her dog Benji, were invited to Northwestern Univerity to help assist the students who attended the Foundations of Physical Therapy for Small Animals lecture and laboratory, the lecture was led by Dr. Susan Davis. Dr. Davis has over 30 years experience of in Physical Therapy for humans and 14 years of experience in small animals. She has since retired from human practice and has formed her own company called Joycare Onsite. With this, she is able to continue to provide physical therapy to animals. She has worked with a wide range of animals including, dogs, cats, rabbits, birds, and exotic animals. 
A few of the main objectives of the lecture were to understand the key structural and muscle differences between a human and an animal. They were taught how to recognize normal and abnormal posture toplines and how they relate to function. It also covered common conditions as to why animals may need physical therapy and how to identify many of the major breeds in both canine and feline animals. In addition, the students learned basic behavior and handling techniques for both dogs and cats as well as common terminology that is used in the Vet Med field. The lecture was split into two halves and at the end of each session, students were given time to have a hands-on learning experience. 
Both Benji and Mike were used in the demonstration with Dr. Davis. After each demonstration, the students then started their labs. This was the best part of the day for both dogs as they received many yummy treats, hundreds of pats, and belly rubs. It was a great day to be a dog!