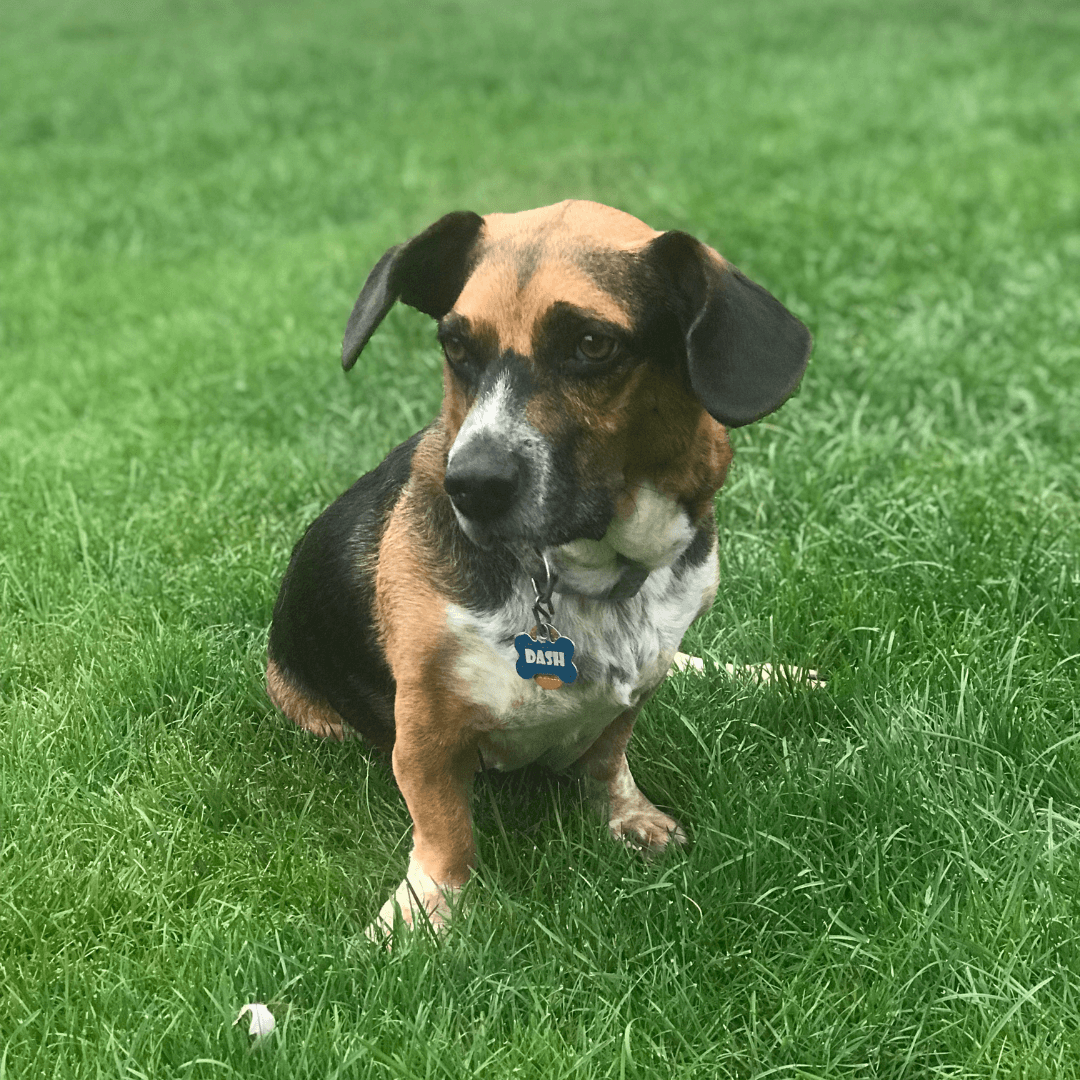 Lombard Veterinary Hospital is home to some amazing clients and patients. We have a few patients who have some truly amazing stories, like Eve the Comfort Dog and Ragnar. We want to share the success story of Dash, who was told that "it would be a miracle if he could walk again."
Dash, a five month old Basset Hound mix, joined his family as a foster which then they quickly adopted him. He is a very sweet and gentle dog, who has a long and muscular body with short and stocky legs. As Dash got older he started to gain weight, which was due to a thyroid problem. This ultimately led to ongoing back issues. One summer day, when he was about four years old, his back started to bother him which led to him resting that whole day. The next day Dash could not walk at all. His family rushed him to an animal hospital where the veterinarian did a full exam and x-rays. This led to the diagnosis of inter vertebral disc disease. The doctor said that in most cases like this the patient rarely recovers without having major surgery and it would be a miracle if Dash was ever able to walk again. The surgery was too expensive, Dash and his family left with steroids, pain meds, and eyes full of tears. "We were all so devastated," said Dash's mom, "We decided to get a second opinion and took him to a canine neurologist." Unfortunately, the neurologist said the same exact thing they had heard before, it would be a miracle if Dash was to walk ever again!
At this point, Dash was heavily medicated and was on crate rest, where he laid with his orthopedic pad. Many people who saw him gently suggested that it might be time to put him down, to end the pain he was in. However, Dash's grandma had thought that since he still had some deep pain sensation and was still a young dog that it might be possible, although a long shot, for him to recover. The family waited a month or so and Dash was still in a paralyzed state and was dragging his back legs when he would move. In order for him to go to the bathroom, his family had to express his bladder and hold him while he defecated. His legs started to develop sores since he was dragging them. To help stop the sores from getting worse, he wore tall dog boots to protect his back legs. He seemed depressed but he was calm and not in pain due to the medications he was on. "It was awful but he was still so sweet and gentle through all of this," his mom stated.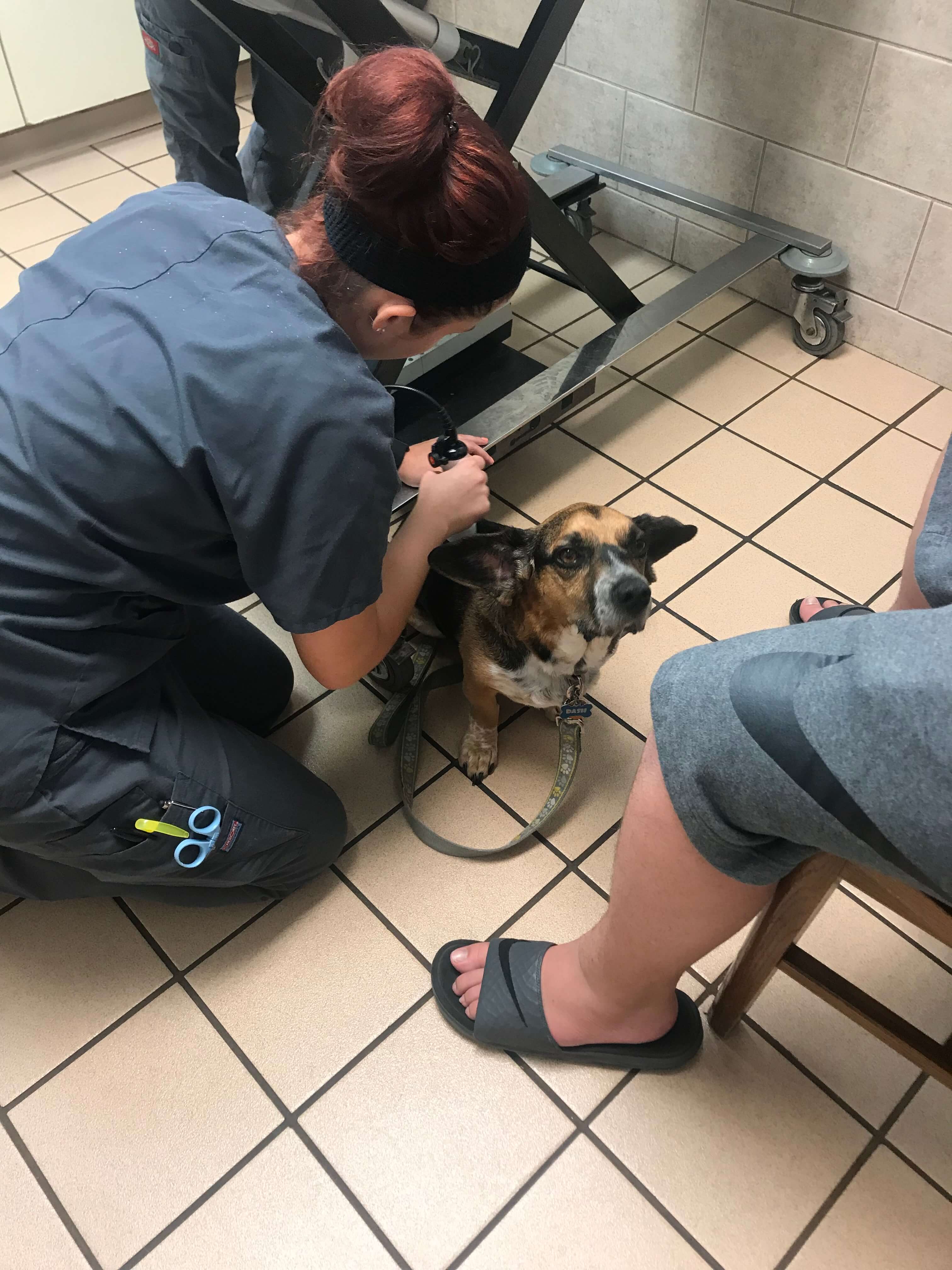 This is when Dash's family brought him to Lombard Veterinary Hospital. "We heard good things about Dr. Ovitt. She took a lot of time discussing this condition and explained that it was too late to go forward with the surgery since so much time had passed," recalled Dash's family. For the third time they heard the phrase, it would be a miracle if he ever walked again! "I saw Dash in August of 2018 for a third opinion on a serious medical condition. Dash had back pain and was unable to use his back legs for almost a month prior to seeing me. The owners asked me to evaluate Dash and see if I could help him. He was already on medications, but they were not helping him. The owners had heard about laser therapy and wanted me to use this for Dash. I have used this treatment often for back pain and disc disease, but never on a dog that had been unable to use his back legs for so long," Dr. Ovitt shared. The family was told it would be a long shot but Dr. Ovitt was willing to develop an intense laser therapy schedule, which was three times a week, and wanted to become more aggressive with the medications he was on. During the course of the next month, Dash remained determined to regain his strength and one day he had wagged his tail. His family thought that it was involuntary movement but he slowly started to wag his tail more and more. As Autumn was approaching, Dash tried a wheelchair just so he could move around the house easier, he didn't like it at all!
Little by little, bit by bit he began to move. He slowly started to move his hind legs and even started to be able to support himself! Eventually he began to walk wobbly for a few seconds. Then he wobbled more and more and finally began to a few steps for the first time in a very long time! Dash and his family did their own physical therapy at home which helped. At this point Dash decided to help himself, he was determined to walk again. "Every morning on his own, he struggled to walk from the living room to the kitchen. "He had an Olympian expression on his face, that was so precious to see," said his mom! By the first snowfall of that winter, he was able to go outside by himself! As the months went on Dash gradually improved more and more. One of his biggest motivations was to be able to chase his friend Dodger, the neighbor's dog. After the long two year road to recovery, Dash and Dodger are able to chase each other again.
Dr. Ovitt shared, "It wasn't just our efforts here at LVH that caused him to improve, but also due to Dash's will to get better and the owner's dedication to see him walk again. Dash has had a few other flare ups since this time with his back, but we start treatment immediately and he has recovered quickly. He has some residual nerve deficits in his back legs that will always be there, but he has learned to compensate and gets around pretty well. Every time I see Dash, I am happy to hear how well he is doing and am thankful that we could make a difference in his life and the life of his family that loves him so much!"
Our family is thrilled that Dash's recovery is complete. Today people who see him cannot believe it was the same dog who was paralyzed. They say "it's a miracle!" Our "miracle" was made possible through Dr. Ovitt's care, compassion and skill! And of course the Lombard Veterinary Hospital staff! We are eternally grateful for everything they have done and continue to do to help Dash through his journey!
To view more images and videos of Dash and his journey, click here.
Media courtesy of Dash's Family